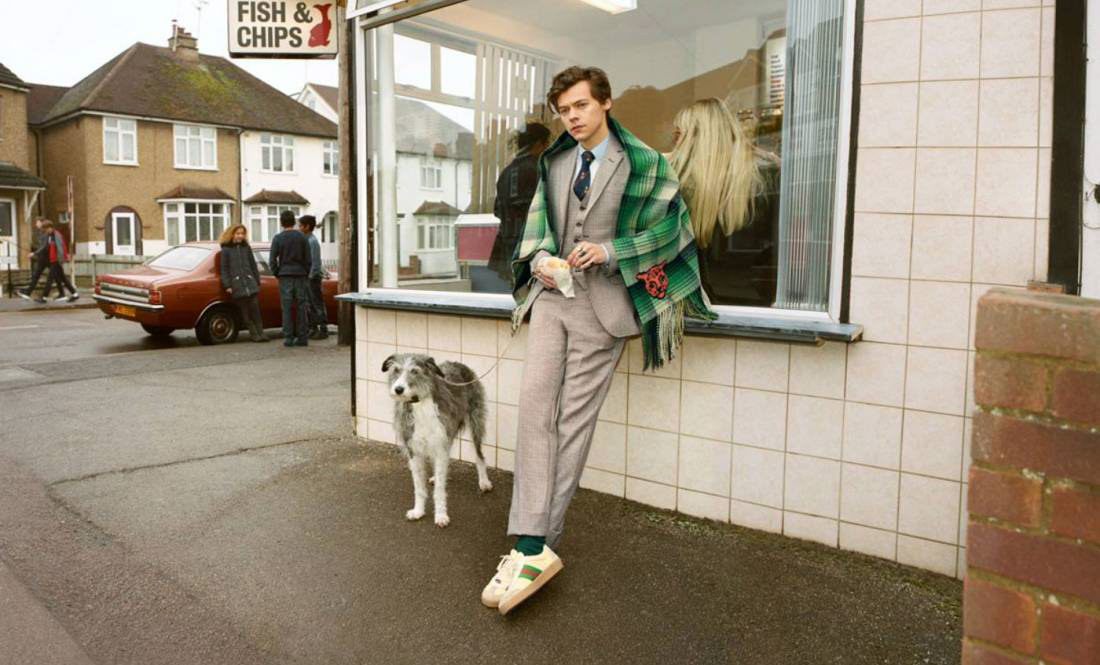 The whole world collectively swooned last Monday when Gucci, everyone's favourite fashion house du-jour, announced that the most popular fifth of One Direction, Harry Styles, would be fronting the brand's A/W18 tailoring campaign. But this move from Gucci represents a great deal more than simply the latest celebrity to be shoe-horned into a major fashion campaign in an attempt to flog more handbags.
The announcement was the latest in a series of successes from the brand which seems to be soaring in the ever-increasingly competitive world of luxury fashion. At the beginning of the month Gucci announced that their sales are expected to grow at twice the pace of the luxury market in the coming years- and the brand's dedication to innovation might just have something to do with it. 
While many brands still find themselves struggling to navigate the modern world, reluctant to adapt and tethered to ideas of tradition, led by Alessandro Michele, Gucci have seamlessly adapted to the new age of fashion. Michele has embraced innovation in a way that other brands fail to do and is reaping the rewards. Just days after the launch of the A/W tailoring campaign, Business of Fashion reported that Gucci had officially surpassed longstanding fashion-champ Louis Vuitton to become the number one fashion brand in the world.
Take any of Gucci's recent campaigns and it is not hard to recognise the brand's pioneering attitude. And while some portray the brand's forward-thinking through subtle symbolism and casting choices, it was hard to miss in their Pre-Fall campaign, Gucci Dans Les Rues. The promotional film shot by Glen Luchford, the same man behind those pictures of Harry, sees the viewer transported to 1960s Paris. Set against the backdrop of protest and politics the piece appears to be a wider commentary on the activism and political unrest occurring in 2018.
Michele's appointment of photographer and artist Petra Collins to not only curate a number of Gucci campaigns but also to star in the brand's fragrance advertisements appears as a similarly politically inspired decision. At only 25 years old Collins first garnered attention due to her innovative style and proudly feminist views. Her appearance in the Gucci Bloom fragrance campaign saw her accompanied by Dakota Johnson and Hari Nef. Nef herself is an openly transgender woman, her inclusion next to Collins speaking volumes about the modernity and liberalism of the luxury brand.
But what has all this got to do with little old Harry Styles? And why is this more than the latest celebrity ad? Surely compared to Gucci's previous politically-inspired brand decisions, a pop-star seems like the lazy option. But Styles has grown a great deal since his days of chinos and floppy hair in the X-Factor house. For sometime now, the hairiest member of One Direction has been vocal in his support of the LGBTQ+ community. And in no subtle way. When the homophobic Westboro Baptist Church in Kansas picketed a One Direction concert, he responded with a tweet supporting "equal rights for everyone". Since launching his solo career his efforts to support the cause have only grown; the 24-year-old can often be seen parading the stage with rainbow flags draped around his traditionally effeminate ensemble of ruffled Jacobean shirts and heeled boots. And just this March when Styles dropped his latest single, Medicine, the internet could not stop talking about one line in particular. "The boys and the girls are here / I mess around with him / And I'm OK with it" finally solidifying him as a bisexual icon.
Not only has Styles become an LGBTQ+ aficionado, let's not forget that after all, he is still a mere mortal like us. Yes, he may now be a multi-millionaire who rubs shoulders with Patti Smith and Mick Jagger alike. But, we were allowed to watch Harry ascend to these dizzying heights making a refreshing change from the unavoidable celebrity spawn who emerged from the womb photo-ready and saturate the media today.
Gucci have proved that they are more than aware of what the millennial consumer wants. Their campaigns have recognised that it is no longer enough to make creative decisions based on sales predictions and which celebrity offspring is the most popular this month, and their choice to use Harry Styles is no different. So take note fashion brands, in the era of #MeToo and Trumpism it's time fashion used its platform to talk about more than just clothes. Although clothes are pretty great, too.