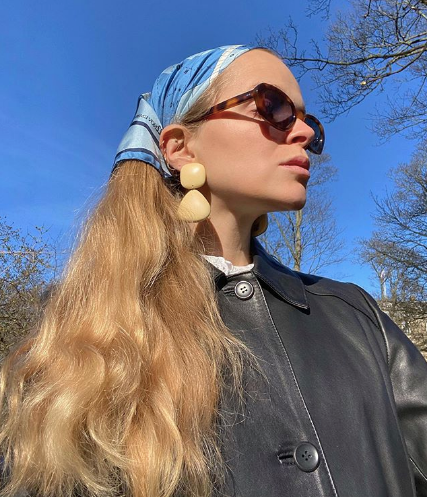 Look, there's no wrong way to spend lockdown, these are unprecedented times which have uprooted our normality and thrown us into a precarious and terrifying oblivion. But, if you haven't worn a bandana at least once whilst being confined to the four walls of your apartment, then why not?
Whilst high fashion has tracked the resurgence of the old bandana over the last few seasons- the bandana was a cornerstone of J.W Anderson's SS collection back in 2018- its journey to the masses has been slower. Influencer-types steadily took to donning the accessory the last summer but, most of us weren't ever really going to give it a go… until now.  
Lockdown has been surprising for many reasons, we've discovered Joe Exotic, we've tested how long the human body can survive without showering and now we've realised (with the help of Bella Hadid et al) that bandanas are the answer. Although what the question is remains to be seen.
Many of you may be sceptical, I feel you, that was me. Like many, I initially watched in a mixture of awe and horror as the trend, last seen in the early noughties (and sported by 7 year-old me on a family holiday to Spain), began to resurface. My preliminary confusion then turned to intrigue as more and more hot influencers a tied a bandana around their head and managed to still look cool. Maybe even cooler than before? But, pre-quarantine I was still convinced that this trend wasn't for mere mortals- it was, like kitten heels, a trend reserved for runway models, celebrities, and women who are always on holiday on Instagram.
But, there are many reasons why the humble bandana has risen to become the must-have isolation accessory for everyone. Firstly, a bandana is the perfect way to hide hair which hasn't been washed in 5 days and roots that haven't been dyed in even longer.  
Secondly, the power of accessories to make you feel like you've got your shit together shouldn't be underestimated. And not only will the bandana make YOU feel like you're not completely out of control, but you can show everyone on Zoom that you're not, too- all while keeping your pyjama bottoms on.
Next, in a time when online shopping has now become a hotly debated activity, a bandana, or at least something which could act as one, is lurking in most of our closets already.
Did I mention they're versatile? If you're not ready to dive headfirst into the grandma-style knot, then why not fashion your bandana into a more traditional headband. Or even ease yourself into the idea altogether by tying yours around your wrist to create a cool bracelet. Hey, it might even help to prevent Carpal Tunnel from all that extra time spent on your laptop- N.B it probably won't and this is not doctor recommended. For those who are feeling adventurous, or just warm, the bandana can even be used as a top. See! Versatile!
Yeah, you might not look exactly like Bella Hadid in your bandana, but my bet is that you actually look at least 16% cooler than before, can put off washing your hair for another day and maybe had 4 minutes of fun putting it on. So, really there's no better time to give the bandana a chance.